Coaches
Nick Clancy
Owner & Head Coach
CrossFit Level 2 Trainer
CrossFit Level 1 Trainer
USAW Sports Performance Coach

NASM Personal Trainer
Growing up in the Tigard area I was exposed to all kinds of different activities at a young age. From football in the fall to basketball in the winter and baseball in the spring. My summers were spent BMX biking, inline skating and playing street hockey with the kids in my neighborhood, many of whom I am still friends with today. Through my adolescence I stuck with basketball and football and didn't really know much about weight training at all. My fitness journey really began in college at OSU (Go Beavs) when I started to take interest in weightlifting and strength training. I kept busy playing intramural football and basketball while learning the basics of the barbell like the squat, bench, deadlift and power clean. It wasn't until after college that I found crossfit. I was looking for something more, something competitive and something fun! So my good friend Josh and I walked into a local box and gave it a shot! The positive environment coupled with hard work was similar to a team atmosphere and I fell in love with it. There was nothing quite like it and It really changed the way I look at fitness. About six months after joining my local gym I received my Crossfit level 1 certification. At that time the thought of opening a gym had crossed my mind, but I could never have imagined opening my own box today. I'm extremely blessed to have such an amazing family, group of friends and community to share this with. I hope you enjoy, Rose City Barbell.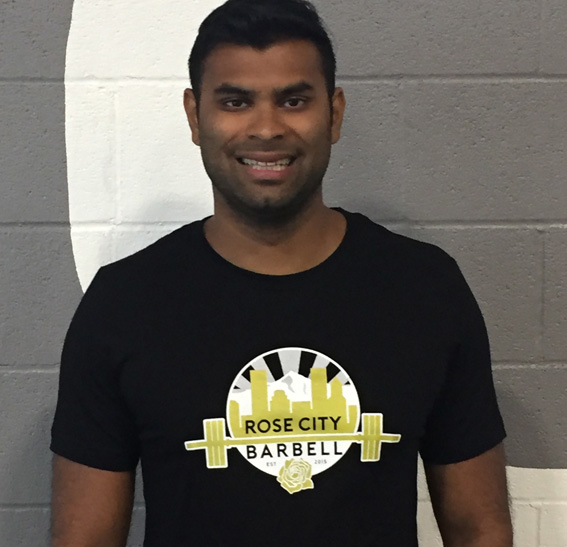 Dr. Ajay Iselin
CrossFit Level 1 Trainer
Doctorate of Chiropractic from Palmer College of Chiropractic
NSCA Strength and Conditioning Specialist
ACSM health and fitness instructor
Dr. Ajay Iselin graduated from Central Washington University in June of 2008 with a Bachelor's degree in Exercise Science. He then worked as a personal trainer at a high end health club in the Seattle area for four years before relocating to San Jose, CA to pursue a degree in Chiropractic. It was there that he discovered Crossfit and joined the Rocktape clinical team to treat athletes at local events including the Crossfit Norcal regionals in 2014. In June of 2015, Ajay received his Doctorate of Chiropractic from Palmer College of Chiropractic and moved back to the Northwest to be closer to friends and family. Once back in Portland, he immediately joined a new Crossfit gym and was asked to implement his passion for Crossfit with his background in human anatomy and biomechanics to lead mobility seminars at his home box. Since then Dr. Iselin has continued to work with athletes of all abilities both in the Crossfit community and his practice in Beaverton to improve their movement and athletic performance. Ajay is excited to bring his love of Crossfit and knowledge of human performance to the Rose City community.
Nick Barto
CrossFit Level 1 Trainer
Licensed Massage Therapist
Born and raised in the Hillsboro area, I grew up with my ten brothers and sisters–which means I have been living an active lifestyle since before I can remember. From riding bikes and climbing trees to wrestling matches and basketball games, my childhood experience as one of eleven, rowdy kids instilled in me a competitive nature and athletic competence that has carried over to many different aspects of my life. As a student athlete at Valley Catholic High School in Beaverton, I was a state champion in basketball and one of the founding members of their football program. I even tried my hand in a variety of other sports, including soccer, tennis, and golf, which helped me to cultivate a more rounded understanding of athletics and fitness.
While attending school at the local community college, I eventually found a career in massage therapy which has allowed me to combine my passion for fitness as well as my interest in the human physiology. My experience as a massage therapist has had a positive, educative impact on my Crossfit lifestyle, both as a competitor and a coach. I am excited to be part of such a great community of athletes and look forward to using my knowledge of the human body, Crossfit experience, and passion of an active lifestyle to help people reach their athletic, fitness, and health goals.
James Rickher
CrossFit Level I Trainer
CrossFit Level II Trainer (July 2017)
CrossFit Endurance Trainer
CrossFit Scaling Course
USAW Sports Performance Coach
Average. That's all I've ever been. Average kid, average adult. I never played any organized sports as a kid (one season of pee-wee soccer and one semester of freshman wrestling hardly count). However, like most American males, I've spent plenty of time in the gym over the years doing the same stuff – back/bi/tri, chest and back, hardly any legs (LOL), etc. Same stuff over and over and over again. Then, in 2010, I found CrossFit and never looked back.
Since starting my CrossFit journey I've become an active trail runner, adventure racer and competitor in local CrossFit competitions. The enjoyment and challenge I get from CrossFit has kept me coming back, year-in and year-out, even at 5:30 AM. I started my CrossFit journey at Diablo CrossFit in California and started coaching in 2013. I moved to Oregon in September 2014 and bounced around a bit before finding a home at Rose City Barbell. I enjoy coaching CrossFit immensely and take great pleasure in sharing my love of CrossFit with others. My favorite thing about CrossFit is that no matter where you start your CrossFit journey you can always get better – all it takes is practice, patience and persistence. The beauty in that is even average guys like me can feel like they've accomplished something.